KOREA – 100 YEARS OF COLLECTING AT THE MET
February 7, 2015–March 27, 2016.
METROPOLITAN MUSEUM OF ART – NEW-YORK.

When the Department of Far Eastern Art was established at the Metropolitan in the summer of 1915, the Museum possessed only sixty-five Korean works. Some were mistakenly catalogued as Chinese or Japanese. Dubbed the « hermit kingdom, » Korea was then little known to the Western world. Today, its traditional arts, as well as pop music, film, and drama, are celebrated markers of global culture. The Museum's collection of Korean art, too, has been significantly transformed and continues to evolve. It now encompasses ceramics, paintings, sculpture, metalwork, lacquer ware, and textiles from the late Bronze Age to the present.
Works on view in the exhibition include a recently acquired late eighteenth-century full-length portrait of a scholar-official, a mid-seventh-century gilt-bronze pensive bodhisattva, two rare fourteenth-century Buddhist paintings, and stellar examples of Goryeo dynasty celadon. The stories behind the objects capture the individuals and trends that shaped the Met's distinctive collection, sometimes deliberately, sometimes accidentally. This presentation also reveals the modern Western imagination of Korea, and the many ways Korean art came to be viewed and appreciated in America.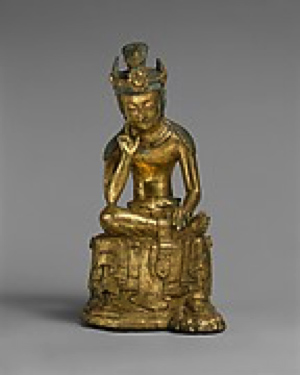 Pensive Bodhisattva
Three Kingdoms period (57 B.C.–A.D. 668), mid-7th century
Gilt bronze. H. 8 7/8 in. (22.5 cm); W. 4 in. (10.2 cm); D. 4 1/4 in. (10.8 cm)
Credit Line: Purchase, Walter and Leonore Annenberg and The Annenberg Foundation Gift, 2003
Number: 2003.222